What is 3d wall panels?
1.It is made of natural plant fiber, Environment-friendly and Safe Materials 100% recycled .
Pure plant pulp materialized is fibrous residue remaining after sugarcane stalks are crushed to extract their juice same as pulp tableware be used. (Our production line is similar with pulp tableware production). Therefore we can claim that this fibrous residue used as the raw material is 100% recycled.


2.Pretreated Polycarbonate.
I3D wall is constructed primarily from Pretreated polycarbonate utilizing environmentally friendly technology for a cleaner, greener, product. At a time when environmental impact is at the forefront of everyone's minds here is a product that provides high quality, interior decoration possibilities that will enhance, not harm, the environment.
Our i3d Panel is made of pretreated Polycarbonate, 100% recycled compostable and is therefore 100% biodegradable. Also environment-friendly and safe decoration material.
3. MDF
4. Marble 3D wall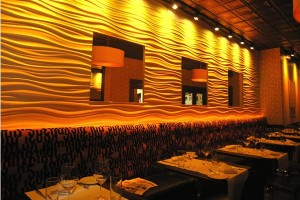 What is the usage of 3d wall panels?
Interior designers believe that rooms should have a central focal point of interest, from which all other elements flow. A feature wall in 3d wall decor panels is an easy way to achieve this.
Apart from creating a unique style of feature walls, 3d wall decor panels can be crafted into furniture such as cabinet doors and doors on entertainment units, They make folding screen and reception desk fronts, photo frame, wood strip, bed heads, stunning bar and more.
I3dwall is a 3 dimensional wall surfacing panel that works in multiples to create a continuous, sculptural wall. Innovative 3dpanel (i3dpanel) is a new concept in surface coverings that gives our customers the ability to customize and re-define space on a budget. our 3d panels are the pioneer in the current trend of enhancing both exterior and interior environments in restaurants, clubs and hotels with a wide articulation of 3d wall is testimony to the sea of change that is impacting interior design.

Our collection of three-dimensional panels, made of polymer, are suitable for outdoor and indoor use, while our Plant fiber 3D panels are more effective for interior applications. A wide variety of designs and prices, allows our products to be used in the most exclusive decoration projects. A collection of decorative 3D panels inspired by natural, organic shapes and textures can also be applied in residential and commercial environment. I3D wall panels creates a huge impact, lending an architectural feel to the room at relatively little cost. I3D wall panels put excitement back into wall decoration by bringing up any space instantly. We offer 20 different designs to choose from to transform a surface to make a long lasting impression. You can check out i3dwall 3d wall panels at moderncontempo.com